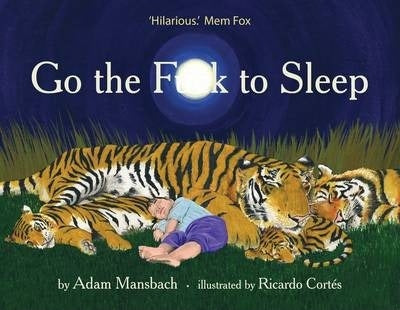 Sugar & Spice - The Baby Shop
Go the F**k to Sleep
or make 4 interest-free payments of $5.99 AUD fortnightly with
More info
Go the F**k to Sleep is a bedtime book for parents who live in the real world, where a few snoozing kitties and cutesy rhymes don't always send a toddler sailing blissfully off to dreamland.
Profane, affectionate, and radically honest, California Book Award-winning author Adam Mansbach's verses perfectly capture the familiar—and unspoken—tribulations of putting your little angel down for the night.
In the process, they open up a conversation about parenting, granting us permission to admit our frustrations, and laugh at their absurdity.
With illustrations by Ricardo Cortés, Go the F**k to Sleep is beautiful, subversive and pants-wettingly funny—a book for parents new, old and expectant.
You probably should not read it to your children.
Excerpt:
The cats nestle close to their kittens,
The lambs have laid down with the sheep.
You're cozy and warm in your bed, my dear.
Please go the fk to sleep.
The windows are dark in the town, child.
The whales huddle down in the deep.
I'll read you one very last book if you swear
You'll go the fk to sleep.
The eagles who soar through the sky are at rest
And the creatures who crawl, run, and creep.
I know you're not thirsty. That's bullshit. Stop lying.
Lie the fk down, my darling, and sleep.
---
Share this Product
---
More from this collection